Each year the companies who make kitchen organizers send out their new books and it's like getting the Department Store's Christmas Toy book in the mail when you were a kid – nothing is more exciting than going through it to see how they can better organize kitchens! It's all about being organized; being organized will make your life easier; function more smoothly and will make your kitchen a better place. Whether it's the unruly plastic containers – pots, pans and their lids – pantry items – small appliances – baking pans – spices – there are so many organizers available now and they are available for both the New kitchen or Retro fit into an existing kitchen!
We have chosen 5 of the most used and popular organizations that you will find in today's kitchens to discuss:
      #1 Trash Pull-Outs: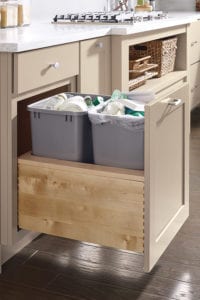 This is probably the #1 organizer requested by customers – being able to hide that ugliness that is our daily trash is fabulous! Trash pull outs come in various options, configurations, colors, sizes – soooo many options! The most commonly used is the double trash 32oz barrels – being able to use one for the trash and the other for recycling is so helpful…but buyer be warned if you are used to using a tall kitchen barrel currently you will certainly feel the need to take these smaller barrels out more often. There is a tall kitchen barrel offered as well however this will eliminate the drawer of your base cabinet. The latest addition to this line of organizers are compost barrels – single ones for under your sink or combined in a pull out with your trash – going green has become easier for sure!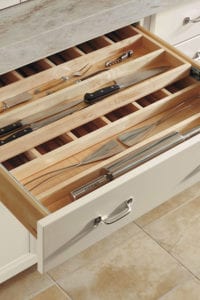 #2 Tiered Cutlery Tray
The Tiered Cutlery Tray made its debut several years ago now and it has taken the market by storm! By using the unused height in your upper drawer of the base cabinet – this truly builds in an extra drawer – use the top portion for your everyday silverware and the bottom for the serving utensils; rarely used items or even for keeping those sharp knives out of sight. There are limited widths for this organizer so if it's on your wish list make sure to watch those.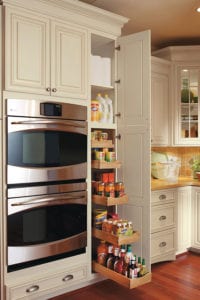 #3 Pull Out Pantry
The Pull Out Pantry normally comes with adjustable shelves allowing you to customize to your item's height needs: spices, baking goods, vinegars, oils, canned goods and a host of other options! These shelves make the most of a smaller space for some of those smaller items. In the last several years this organizer has welcomed some makeovers and has become even more versatile! Some of the upgrades include knife blocks; utensil holders; canisters and have been broadening their horizons with a bathroom option to hold blow dryers; makeup; combs and brushes along with curling irons and straighteners. The Pull Out Pantry is also made in wider/taller models to fit into the always popular tall utility cabinets too. Just one pull and all the items on the shelves come out to you with ease!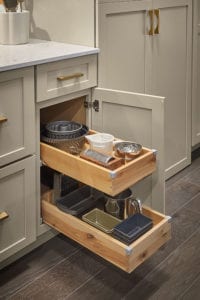 #4 Roll Out Trays
If the Trash Pull Outs are the #1 asked for organizer – than roll out trays are hands down #2! Most of the cabinet companies have the wood roll out trays pre-installed in their base cabinets today; but if you are looking to update your existing kitchen this can make a world of difference. Being able to pull out the contents of your cabinets to you so you can both see and select from the tray is so much easier. It's a must have for the tall deep utility cabinets so you won't forget that can of tomatoes in the way back of the deep shelf. The wood trays are usually offered in a variety of heights and besides the pre-installed wood trays these are also available in metal in various colors as well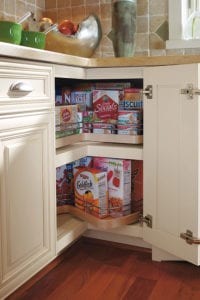 #5 Lazy Susan/Blind Corner options
Corner base cabinets are always a challenge –over the years numerous upgrades and features have made the lazy susan cabinets the preferred corners in kitchen design. In a lot of cases these are no longer plastic and limited to being on a center pole but instead are made of wood and are individually installed on the floor and in the center of the cabinet. The trays make storing larger items like your pots and pans or small appliances a great way to utilize a deep cabinet and bring those items in the back up to you.
Blind corner base cabinets are an even bigger challenge and sometimes due to the dimensions of a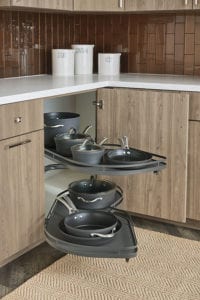 kitchen there is nothing else to do but use them in the kitchen design. To make these cabinets less daunting in a kitchen the organization manufactures have been creating inserts that pull or swing out of the cabinet allowing for easier usage – however those cannot be used if the corner cabinet is adjoining an appliance due to the amount of clearance is needed and these cabinets are also typically larger so that the door opening will accommodate the insert.
This really only scratches the surface of what is available for Kitchen Organizers, the options are amazing and will have you making out your wish list in a Hurry! You can always bring in that wish list when you meet with your designer to discuss all the options and make sure you can make your kitchen work the most efficiently for you!
Below are several options to start your search:
Rev-a-Shelf: www.rev-a-shelf.com
Kesseboehmer: www.kesseboehmer.world/en/
Hardware Resources: www.hardwareresources.com