Designing kitchens in New England can be a challenge — the function of our kitchen today is so very different than they used to be.  Most of our kitchens were originally designed as smaller rooms meant for food preparation and cooking, not serving as that was a task for the dining room.
As our lives have become busier and more complicated, the kitchen has now become the hub of most family's lives: it's where we catch up with each other, the location for family management, and now we even entertain in those spaces. The kitchen's role has evolved and expanded, but sometimes the footprint can't change and we need to learn to utilize that small space to be everything we need our modern kitchen to be. As you gather your kitchen remodel ideas you should keep a few things in mind.
Kitchen Ideas for Small Spaces
The trick when designing for a small space is to utilize every square inch possible in the most efficient way. This is the challenge that kitchen designers struggle with, making so much fit into such a tight spot and making it all work to its full potential for each and every person in a family:
Countertops that serve as a command center for the head of the house to tackle permission slips, grocery, and honey-do lists. 

A place to research a recipe or pay the household bills.

Enough counter space to roll out holiday pies and cookies, make those Monday meatloaves and still throw together a grilled cheese sandwich before running to practices.

Cabinet storage space for all of today's small appliances, gadgets, specialty pans and storage containers with lids for those leftovers, along with all that food and a good hiding spot for that chocolate bars.

Kitchen entertaining — it's where all the friends and relatives congregate with those that are helping prepare a meal or just want to hang out.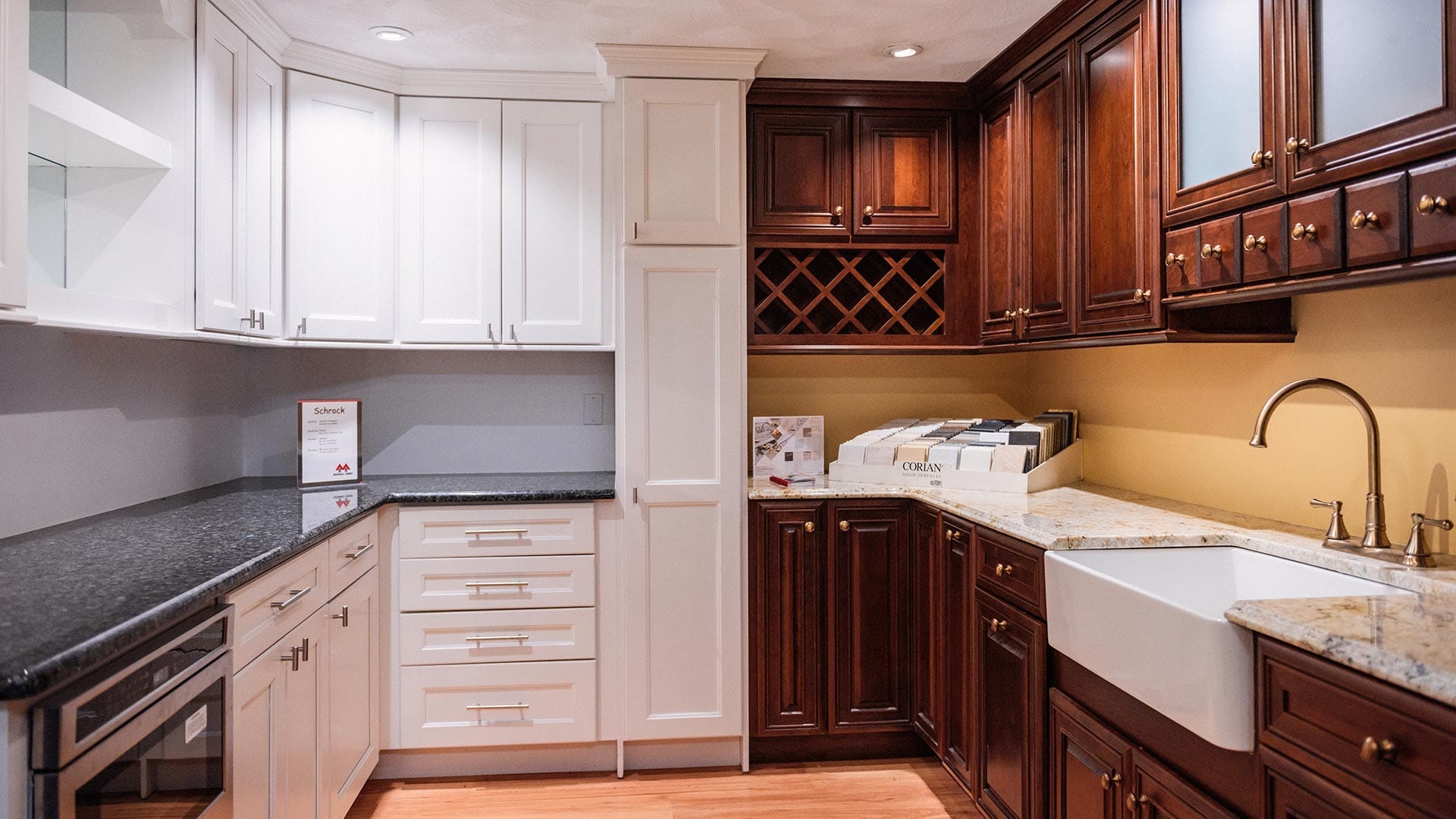 Planning for Your Small Kitchen Remodel
The answer to these challenges is planning:
Look beyond just cabinets and countertops and map out the whole kitchen in order to get the most out of the space you have and to fit as much of your life into it.

Incorporating interior items that will fit your kitchen lifestyle and how it operates.

Using kitchen cabinetry in the sizes you need for your family's stuff.

Placing items close enough or far away from each other for best functionality and safety.

We can't forget the aesthetics, you have to feel good about that space every morning when you make that first cup of coffee and show off your family's personality.
Corralling all these kitchen design ideas is a true juggling act for sure — but worth every moment once you can load those cabinets up with your dishes, glasses, pots, and pans after a remodel or new build!